COFFEE ALTERNATIVES FOR BREASTFEEDING
Hey mamas, I know coffee is a staple for many of us, but sometimes we need to mix it up and find some nutritious alternatives to get our energy levels back up. I mean, let's be real - sleep is a luxury when you have a little one in the house.
Mamas, don't feel guilty about enjoying a little caffeine, but know that there are plenty of nutritious alternatives to keep you energized and nourished during this busy time.
ENERGY BOOSTING ALTERNATIVES
Let's boost our energy in other ways!
HYDRATION
Dehydration can cause major fatigue, and it's common for breastfeeding mums to be a little dehydrated from all the hard work our bodies are doing. Keep a water bottle with you at all times and try to finish it during breastfeeding sessions. Or, if plain water isn't your thing,
- try infusing it with mint or lemon
- invest in a SodaStream to make your own flavoured water
- try hydration powders (psst check out our hydrate up; specially made for mums)
MATCHA
Matcha is another great option for a little energy boost. It's a powdered green tea that's packed with antioxidants and a phytonutrient called l-theanine, which promotes calmness.
So you'll get a calm alertness rather than the jitters from coffee and has less than 20mg of caffeine per cup compared to 80mg-100mg in coffee.
(check out our Milk'N Matcha Latte; Made with high quality stone ground matcha with added brewer's yeast to help with milk supply and MCT for energy)
HOT CHOCOLATE
If you're feeling a little indulgent, hot chocolate can be a tasty alternative to coffee. Just make sure to use a high-quality cocoa powder and skip the sugar for a healthier option. (psst check out our Milk'N Hot Choc; low sugar but tasty)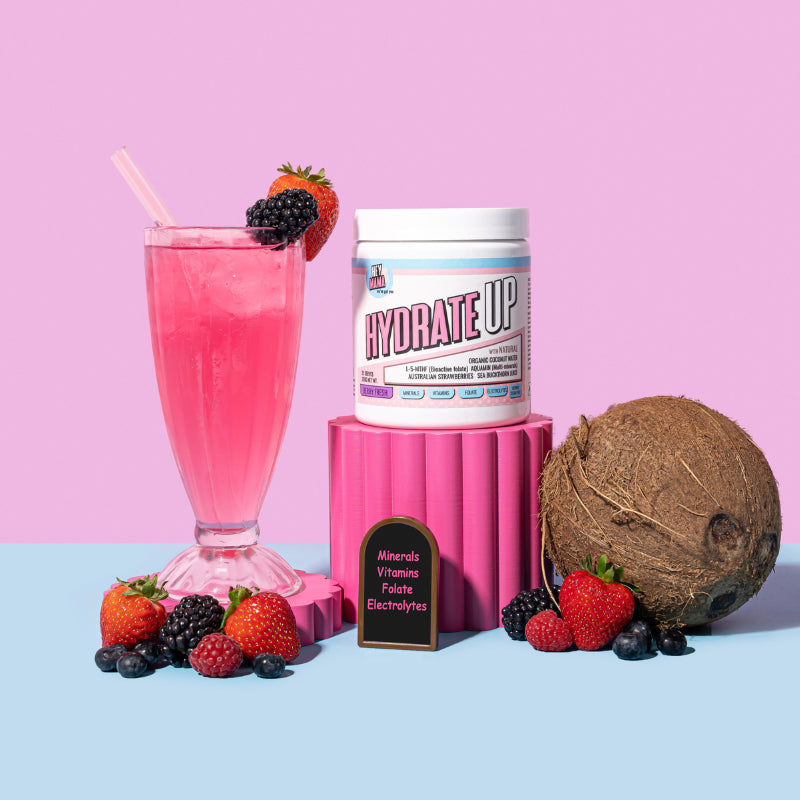 HYDRATE UP
Clean, better hydration.
Packed with electrolytes, vitamins, methylated folate and other good stuff to help you hydrate easier and better.
Hydrate Up is healthy hydration when water is a struggle.
We created a hydration powder that is completely different to all the other hydration powders in the market.
Why? Because the hydrate up was created for mums in mind.
So we only used the best ingredients possible such as highly bioavailable folate from Methylated folate, vitamin C from wild crafed sea buckthorn, magnesium, calcium and 70 trace minerals from the award wining super ingredient Aquamin - red algae harvested off the coastline of Iceland) 
And we left out all the things that the other hydration powders have such as high sugar content, artificial flavours, colours, sugars and the bland taste.
Hydrate Up is here to make hydrating your hard working bodies a little easier.
MILK'N MATCHA LATTE
Supports your milk supply and gives you that zen-ergised feeling all day long.
-Low sugar just 2.4g of sugar per serve!
- Made with stoneground organic Japanese matcha 
- Organic prebiotic inulin fibre to help with digestion and gut health
- Clean and healthy treat that naturally boosts energy, thanks to the added MCT oil 
- Colic friendly for baby- dairy free & gluten free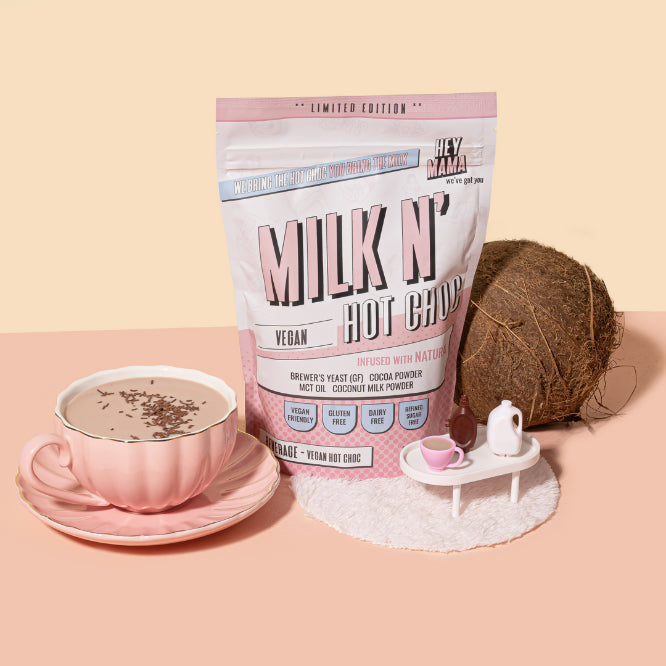 MILK'N HOT CHOC
A comfy cup of hot choc to get your milk makers flowing, your energy tank up and without the sugar high.
- Low in sugar, just 2.4g per serve!
- Help to get through the late night feeds 
- Clean and healthy treat that naturally boosts energy, thanks to the added MCT oil 
- Colic friendly for baby- dairy free & gluten free