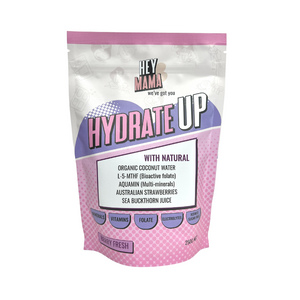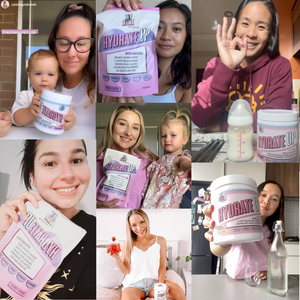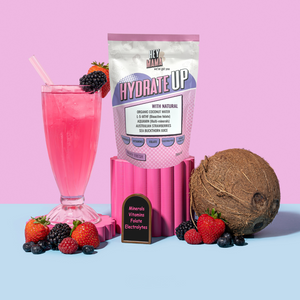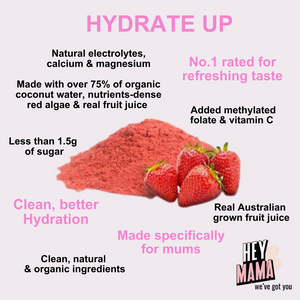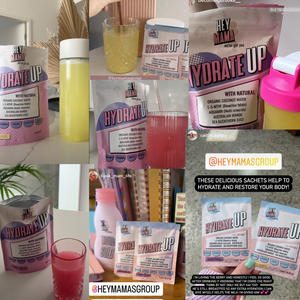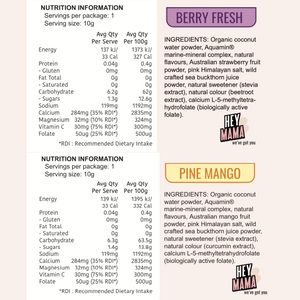 Key Info
✔️ Hydrate Up will be your new power up: When you're feeling sick and dehydrated, preparing for labour and birth, breastfeeding, getting back to exercising or trying to keep up with little kids. We also added vitamins and methylated folate to give you an extra boost.
✔️Top Best Seller: Sold out 4x with a 2 month preorder waitlist and highly rated for taste!
✔️ Look forward to hydrating, easier and guilt free: We kept things clean and left out all the things that other hydration powders have such as high sugar content, artificial flavours, sweeteners, sugars and bland taste.
✔️ Made with organic coconut and real Australian fruit powder. It tastes so good, you will have no trouble drinking 2+ litres of water.
ORGANIC & NATURAL INGREDIENTS
ORGANIC COCONUT WATER
Made from 100% natural green organic coconuts. Natural source of electrolytes
AUSTRALIAN GROWN FRUIT
Australian grown strawberries and mangoes
AQUAMIN
Aquamin is a soluble multi-mineral complex that is rich in calcium. It is derived from calcified Lithothamnion Sp. red algae harvested off the coastline of Iceland and is rich in bioactive calcium, magnesium and over 70 trace elements.
VITAMIN C
Naturally derived from wild harvest buckthorn and Australian fruit.
METHYLATED FOLATE
A bioavailable form of folate which can be absorbed by everyone. Important for baby development. Note: Hydrate Up is not designed to replace your prenatal vitamin.
✔️Our first ingredient isn't a sweetener, we use real fruit as our main source of natural sweetener
✔️Added methylated folate, multi-minerals and vitamins for an extra health and wellbeing boost
✔️Organic coconut water & Australian fruit powder so it's bursting with flavour and taste super refreshing
✔️ Clean, natural, low in sugar, gluten & dairy free
✔️Made in Australia with premium ingredients
We are seriously 'refreshingly one of a kind' made specially for mums. 💖
DELIVERY TIMEFRAME
Standard Shipping: 2- 8 business days.
$7 Express Shipping: 2-5 days.
XMAS CUT OFF DATES
To WA & TAS - 13th December for delivery BY XMAS.
Remainder of AUS - 15th December for delivery BY XMAS
100% NO RISK MONEY BACK GUARANTEE
We think you're going to love your products! But if you aren't completely satisfied with anything, you can return or exchange the item(s) within 21 days of purchase.
You can see all the details about our return policy here.More questions? Just leave a message on our shop's messenger app (purple speech bubble found at the bottom left hand corner).
Mix 1-2 teaspoons in 250-450ml of ice cold water. Enjoy as required.
How mums use Hydrate Up in their day…
🏃‍♀️I have one every single morning after a walk with bubba.
🏋️‍♀️ I'm getting back into a good gym routine and this helps with keeping hydrated for the day.
☕️ When I need an afternoon pick me up instead of coffee.
🌤️ I drink this first thing in the morning, after nursing through the night.
🤱I sip it while I breastfeed.
🚗 I have the hydrate up in car while I do school pick ups/drop offs
💻 I have a full bottle of hydrate up next to me while I'm working
View full ingredient list
Pine Mango
organic coconut water powder (50%), Aquamin® marine-mineral complex (23%), natural flavours, Australian mango fruit powder (3.5%), pink Himalayan salt, wild crafted sea buckthorn juice powder, natural sweetener (stevia extract), natural colour (curcumin extract), calcium L-5-methyltetrahydrofolate (biologically active folate)
BERRY FRESH
organic coconut water powder (50%), Aquamin® marine-mineral complex (23%), natural flavours, Australian strawberry fruit powder (3.5%), pink Himalayan salt, wild crafted sea buckthorn juice powder, natural sweetener (stevia extract), natural colour (curcumin extract), calcium L-5-methyltetrahydrofolate (biologically active folate).
**Manufactured on equipment that also handles Milk, Fish, Soy, Egg, Nut and Sesame ingredients.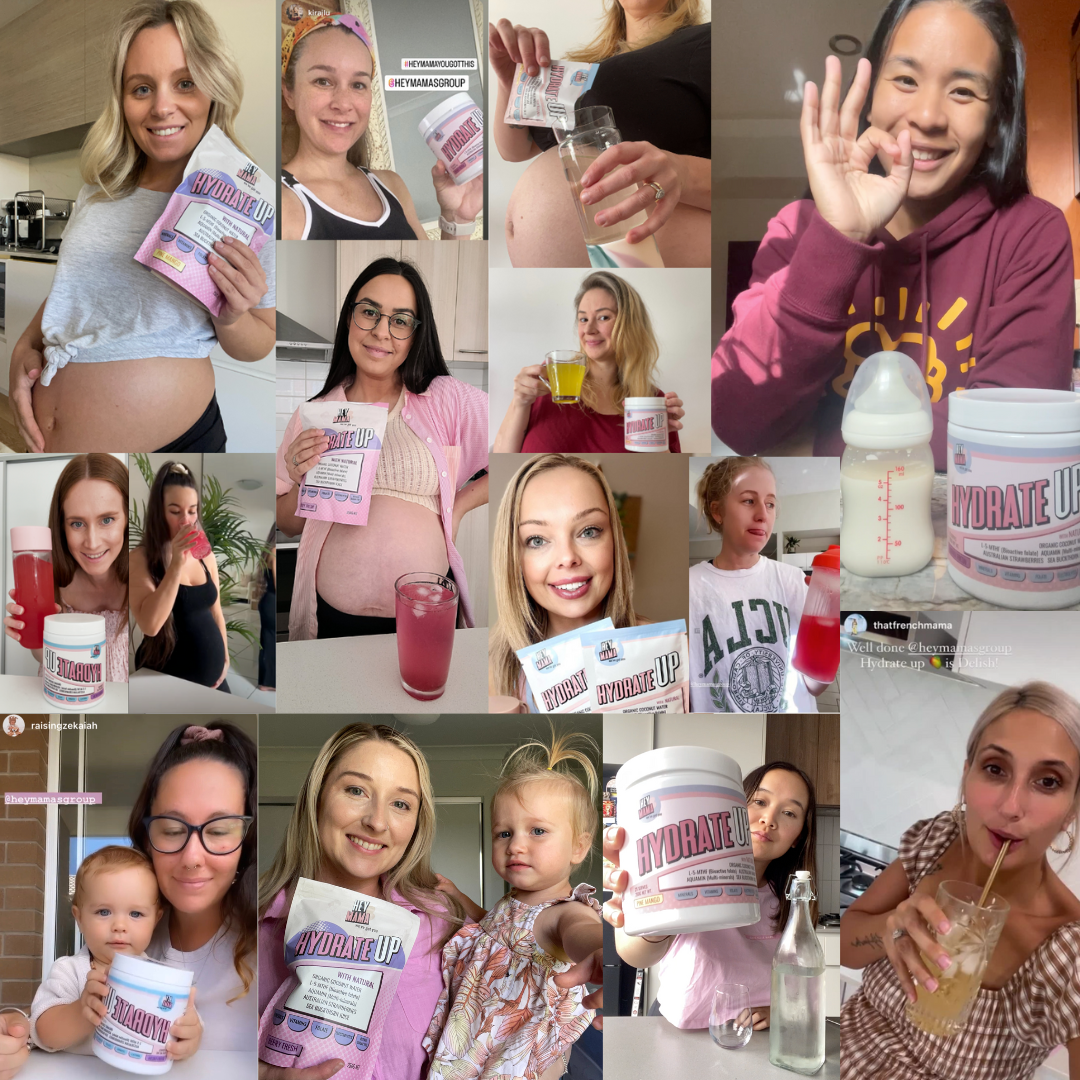 🌸 Hear What Other Mums Say 🌸
LOVED by HUNDREDS of mums across Australia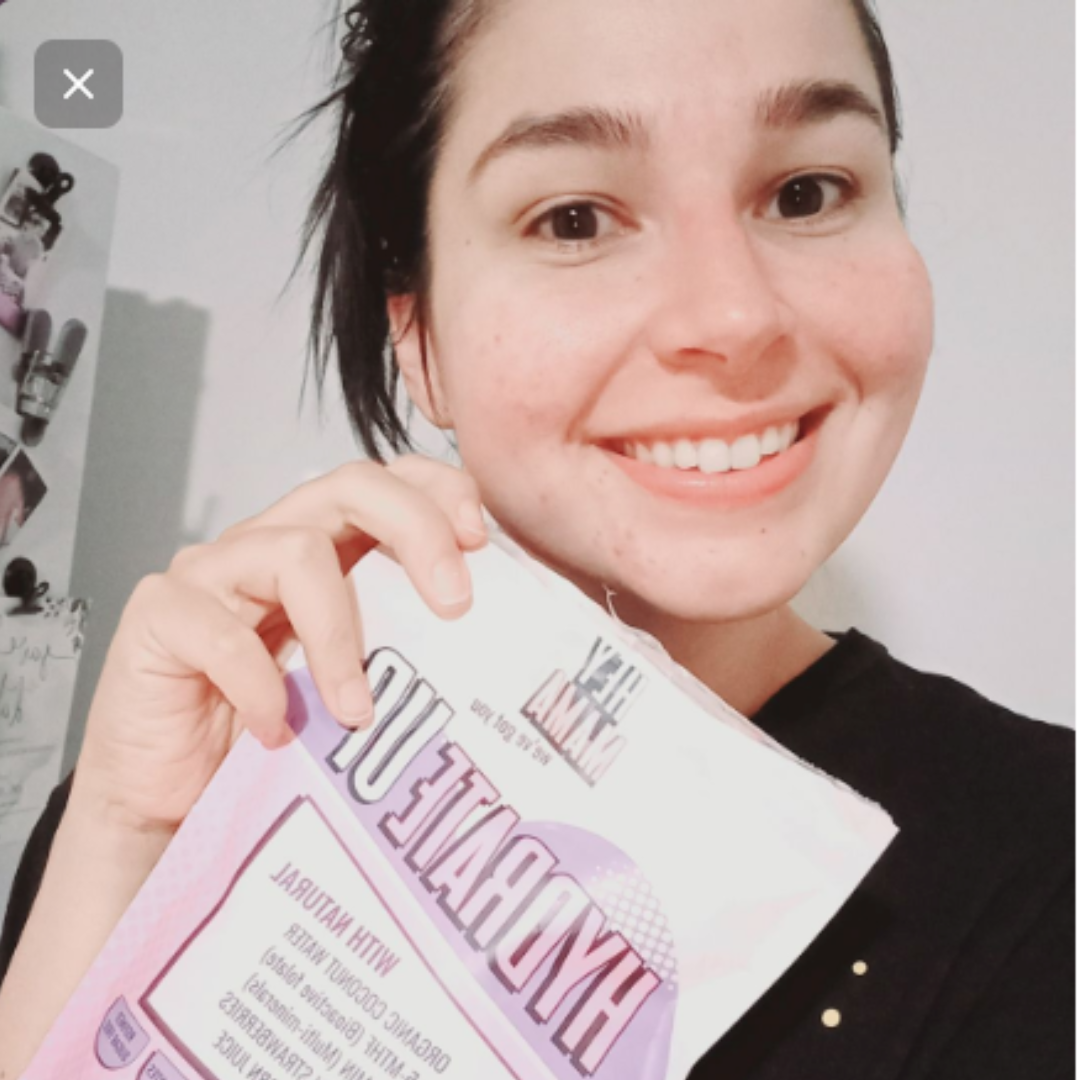 I now drink 3L a day, It made me feel more hydrated and energetic
⭐️⭐️⭐️⭐️⭐️
Delicious and so easy! Saved my bacon a few times, I get so busy being a mum I forget about hydration. - Suzy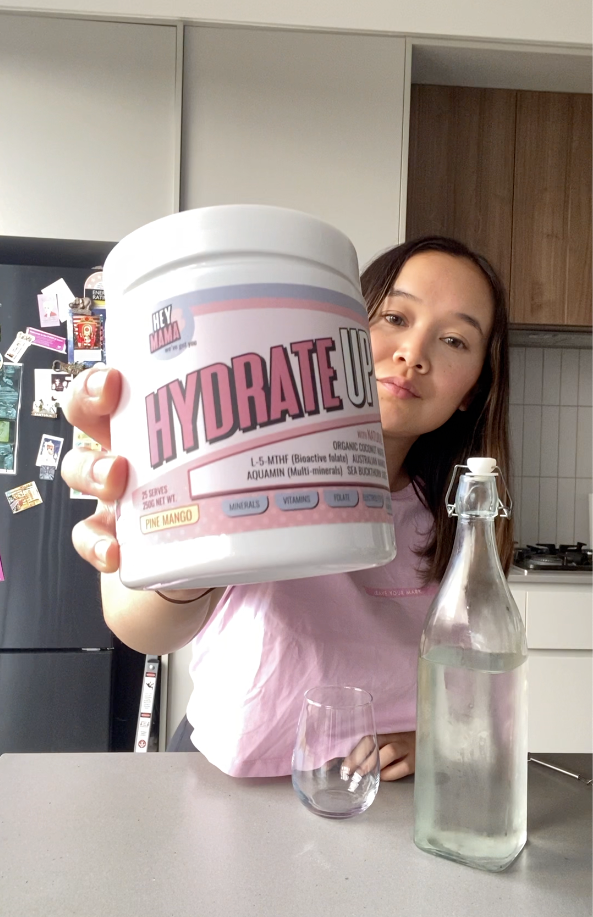 This made it so much easier for me to drink water!
⭐️⭐️⭐️⭐️⭐️
Makes me feel great and gives me the energy to stay awake during the overnight hours for breastfeeding and pumping (not taking any caffeine) -Kim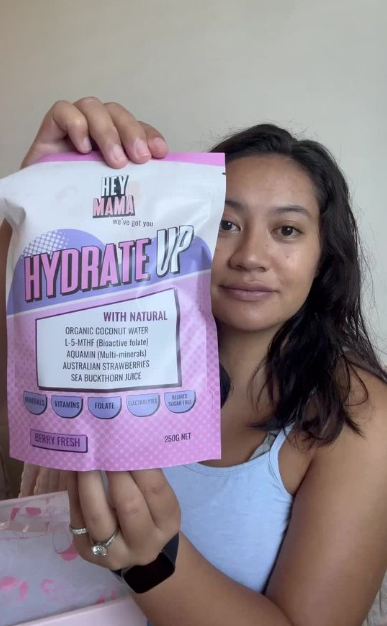 These taste aaamazing and it honestly feels like a little treat!
⭐️⭐️⭐️⭐️⭐️
Mums who are probably tired of drinking so much more water than usual, this is for you as you can mix it up with your normal water intake and actually be excited about drinking it. - Makida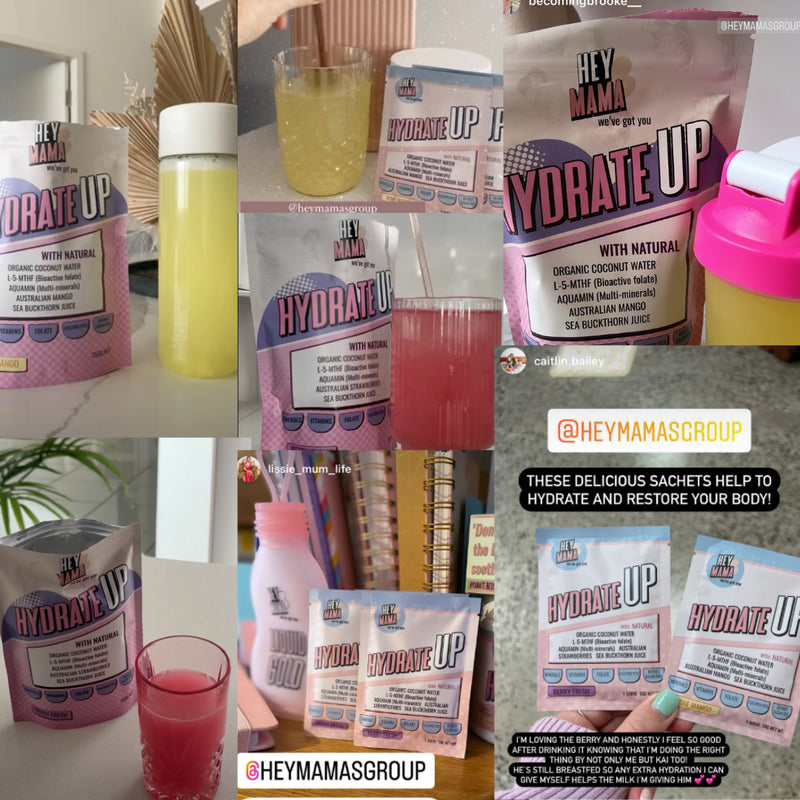 The Hydrate Up is perfect if…
🥴 You want something to help ease some those 'head in bowl moments during pregnancy like nausea, sickness, headaches and dehydration.
🍼You want to support your supply and need to hydrate more to keep up with your milk supply
💫 You want an energy boost from hydration, not another cup of coffee
🏋️‍♀️ You are starting to train/go to the gym again
💦 You get busy during the day and forget/struggle to drink at least 2L of water
😋 You want something refreshing, tasty and guilt-free that you can actually look forward to having daily
💊 You want added benefits of electrolytes, folate, vitamin C, calcium & magnesium
We're A Bit Pricey, But There's A Reason Why...
We aim to support not only our mamas but also people in basic need. Where possible we source ingredients from quality suppliers such as not-for-profit suppliers like Niulife.
Niulife is an Australian social enterprise that aims to erase poverty and empower the lives of some of the poorest remote coastal communities. The coconut derived products from Niulife are wild harvested organic coconuts that are planted and harvested by the local villagers.
Faqs
I'm not sure about the taste, do you have sample packs?
Yes, we do have sample packs. Click here to see our sample packs
How many can I drink per day?
We always recommend you consult your health professional when using any new supplements or nutritional products as they will be able to determine your individual needs based on your health records.
But generally as guide we recommend the following you consume 1-3 serves per day
How do I know If I'm dehydrated?
Easiest way is to look at the colour of your pee - if it's dark yellow then it's a good chance you are dehydrated. Also having dry lips, dry mouth, headaches, dizziness can also be indications of dehydration.
How much fluid should i be drinking?
If you are pregnant: It is recommended that you drink about 2.3L (around 10-12 glasses) per day.
If you are breastfeeding: It is recommended that you drink about 2.6L (12-15 glasses) per day
For everyone else: at least 2L.
Why not just drink water?
Water is the best form of hydration and everyone should be drinking a lot of it! But a lot of us don't drink enough cause we forget, we are too busy, we find it boring, we feel sick, etc. Hydrate Up was created to help with these reasons.
All our products are made in Australia.
What makes you different from other hydration drinks?
1) Our first ingredient isn't sugar! If you read the ingredient list of other brands, the first ingredient listed is sweetener/sugar/sucrose OR flavouring. The first ingredient list in a product indicates what the bulk of the product is made with. Hydrate up is made up of over 75% organic water and plant based minerals.
2) Low in sugar - only 1.3g of sugar per serve compared to over 12g of some of the popular brands.
3) We use methylated folate not folic acid. Methylated Folate is highly bioavailable form that your body can absorb
4) Majority of our ingredients are real not processed - real natural sources such as red algae, coconut and Australian fruit.
What if I don't like it, can I get a refund? 
Yes you can. We offer a 30 day money guarantee*.
*All returns must be requested within 30 days of the order date.
All items must be pre-approved for return by emailing us at hey@heymamas.com.au.
Customers are responsible for shipping costs back to Hey Mama. 
The following products and conditions are excluded from our guarantee:
- All bundle orders 
- Orders over $100
Visit our returns & refunds page for more detail.
If you are unsure if a product is right for you or you will like the taste, we suggest you try our sample packs first.
Can I take hydrate up instead of taking folic acid or prenatal vitamins?
Hydrate Up contains 50 micrograms amount of folate per serve and is designed to help support your daily requirement but not replace your prenatal or folic acid supplements
As always we recommend you consult with your healthcare professional when introducing any new nutrition products or supplements
Are your drinks carbonated?
Nope but you can add sparking water instead of still water if you are looking for that fizz.
If I am concern with my milk supply or experiencing difficulties with milk supply
If you are experiencing difficulties with milk supply, please consult your health care practitioner