TLC For Your Bump

Whipped buttery texture

Soothe belly itch

Protect and repair
Don't scratch the belly itch, soothe it.
Growing a baby is tons of work and the itching is the last thing you want to carry on with. Give your belly some TLC with our whipped belly butter that can be easily spread over itchy bellys.
Our belly butter is formulated to lock in moisture and help support the skin's elasticity as it stretches during prengancy.
Mama, we've got you. We'll look after your bump.
Give Your Belly Some TLC With Our Creamy Belly Butter
Key Info
A creamy butter hydrates, reduces inflammation and soothes the skin. It also nourishes and protects the skin.
Contains natural vitamin E. Good for dry and cracked skin, prevents skin irritations.
High in linoleic and oleic acid, and natural vitamin E. Ideal for treating barrier-damaged skin.
Contains antioxidant and anti-inflammatory properties, calms and hydrates while also assisting in repairing and regenerating the skin.
Non-irritating oil, hydrating and restores the skin's suppleness.
Highly moisturising with a high concentration of vitamin E. Shields and protects the skin from environmental damage.
View full ingredient list
INGREDIENT LIST:
Water, Butyrospermum Parkii (Shea) Butter, Theobroma Cacao (Cocoa) Seed Butter, Triticum Vulgare (Wheat) Germ Oil, Cetearyl Alcohol, Cetearyl Glucoside, Rosa Moschata (Rose hip) Seed Oil, Squalane, Glycerin, Tocopherol (vitamin E), Jojoba Esters, Arachidyl Alcohol, Behenyl Alcohol, Arachidyl Glucoside, Helianthus Annuus (Sunflower) Seed Wax, Acacia Decurrens Flower Wax, Lavandula Angustifolia (Lavender) Oil, Acacia Senegal gum, Xanthan gum, Caprylhydroxamic Acid, Caprylyl Glycol, Polyglycerin-3
OTHER INFO: No chemicals, fragrances, parabens, sulfate free, dyess, colours or any other added nasties.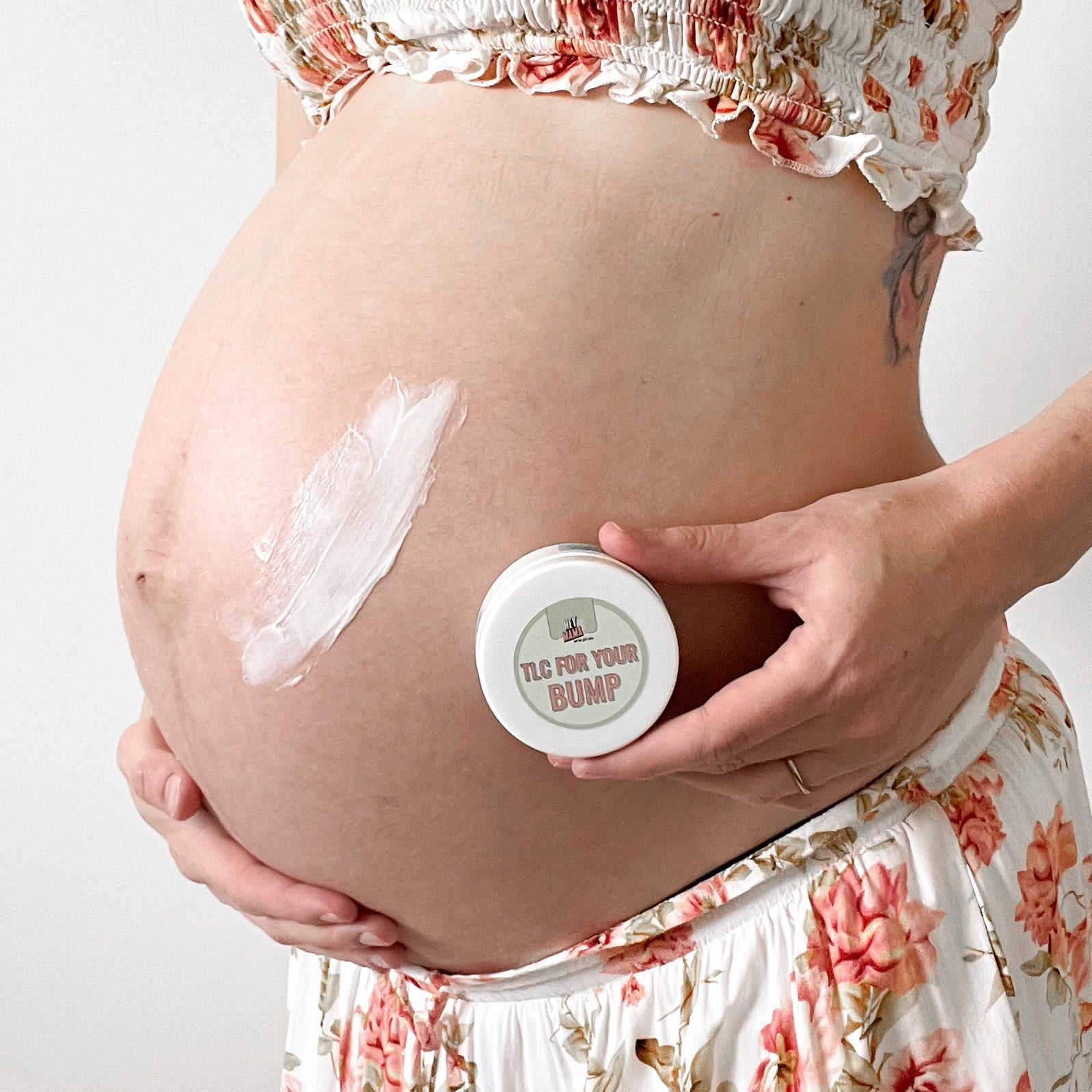 Give Your Belly Some TLC With Our Creamy Belly Butter
We've Got You Mama, Guaranteed.
We want to make soothing your belly as easy and comfortable as possible.
That's why you're covered by a 30-day guarantee. If you don't love the Belly Butter, if it doesn't work as expected, or if you have any problems at all — you can get a refund*.
No hassle or hoops to jump through. Simply contact our Aussie based customer care team and we'll help you!
*Please visit our refund policy page for more details.
Give Your Belly Some TLC With Our Creamy Belly Butter
Faqs
How do I use the Belly Butter?
Massage into belly. For best results, use directly after a shower or bath to help lock in mositure.
Can i use the belly butter after pregnancy?
Yes! The belly butter is suitable for both expecting and postpartum mums.
Is Hey Mama made in Australia?
We are 100% owned and made in Australia!
Will the belly butter get rid of stretch marks?
It varies for each mama as everyone's skin elasticity differs and changes through pregnancy. The Belly Butter works to prevent stretch marks by keeping the skin elastic and strong to help reduce the appearance of stretch marks. Whether you get stretch marks that remain well beyond pregnancy will depend on how rapidly your skin stretches and your genetics.
Can I use the Belly Butter on C-section scars?
We recommend that you only use the belly butter on the C-section area once your incision has completely healed.
How do I know when to call my doctor?
It's normal to experience some discomfort during pregnancy and while you recover from delivery. We recommend you speak to your doctor or midwife if your symptoms are worsening over time.
We'd be surprised if you didn't totally love your Belly Butter. However, we appreciate everyone has unique preferences and expectations. That's why we offer a 30-day money-back guarantee.
Send us back the Belly Butter and we refund you the cost minus the shipping.
For more details on our refund policy, visit our refund policy page.
Give Your Belly Some TLC With Our Creamy Belly Butter