Key Info
✔️ The Milk'N Hot Choc is your new warm breast friend. Tasty and nourishing to comfort you after a long day, like a warm hug. Designed to support supply, give you a boost of energy and taste amazing.
✔️ Ultra-clean blend: Made with over 40% pure alkalised cocoa powder, a higher concentration of the same high quality German gluten free brewer's yeast used in our protein smoothie and added MCT oil for energy.
✔️ Look forward to, guilt free: Unlike most lactation hot chocolates, our isn't loaded with sugar and our first ingredient isn't sugar! We kept things clean but tasty so you can look forward to it, guilt free!
✔️ Safe for sensitive tummies: All natural, dairy, gluten and soy free.
Pure Alkalised Cocoa - Made with over 40% of pure alkalised dutch cocoa powder.
MCT Oil - A natural source that helps supports sustained energy.
High Quality GF Brewer's Yeast - We use a higher concentration of the same high quality german gluten free brewer's yeast we use in our no.1 lactation protein smoothie.
Coconut Milk Powder - Gives our hot chocolate the creamy taste and contains good healthy fats that help with recovery.
🥶The best hot choc with clean ingredients! Perfect for for the cold winter months
🌟 A life saver when you are having a sweet carving but you want a healthier option
😋 It's packed full of flavour, even when I add extra oat milk. I prefer drinking it cold (great for summer) and made sure to bring a pack for the few days I spent in hospital post-birth.
✅ Due to so many food allergies I find it difficult to find a product that taste good and actually works.  
👶🏻 My daughter is going through a growth spurt and I was struggling to keep up nursing her and my toddler, but this gave me a great boost in supply!
🍫 Great for when I'm looking for a naughty sweet snack in the arvo I can just have one of these.
DELIVERY TIMEFRAME
Standard Shipping: 2- 8 business days.
$7 Express Shipping: 2-5 days.
XMAS CUT OFF DATES
To WA & TAS - 13th December for delivery BY XMAS.
Remainder of AUS - 15th December for delivery BY XMAS
Method 1 with hot water: Mix 2 teaspoons (10g) of hot chocolate in 200ml of hot water and add a splash of your favourite milk. 
Method 2 with hot water & milk: Mix 2 teaspoons (10g) of hot chocolate, add splash of hot water (50ml), stir and add 200ml of your favourite milk.
Start with the foundation of eating right and hydrating well, then add Hey Mama Lactation Protein Smoothie to support your milk supply and overall well being.
Note: Hey Mama Products are not intended as a replacement for lactation and postnatal support. Please discuss the use of this product and any lactation supplements with your lactation consultant or healthcare provider.
100% NO RISK MONEY BACK GUARANTEE
We think you're going to love your products! But if you aren't completely satisfied with anything, you can return or exchange the item(s) within 21 days of purchase.

You can see all the details about our return policy here. More questions? Just leave a message on our shop's messenger app (purple speech bubble found at the bottom left hand corner).
View full ingredient list
Ingredient List: cocoa powder alkalised, coconut milk powder, coconut nectar sugar, natural flavour, MCT coconut oil powder, gluten free brewers yeast, monk fruit extract, pink himalayan salt.
Nutritional Info Per Serve 10g
Energy 147kj
Protein 1.1g
Fat 1.8g
Carbohydrate 4.4g
Sugars 2.2g
Sodium 44mg
**Manufactured on equipment that also handles Milk, Fish, Soy, Egg, Nut and Sesame ingredients.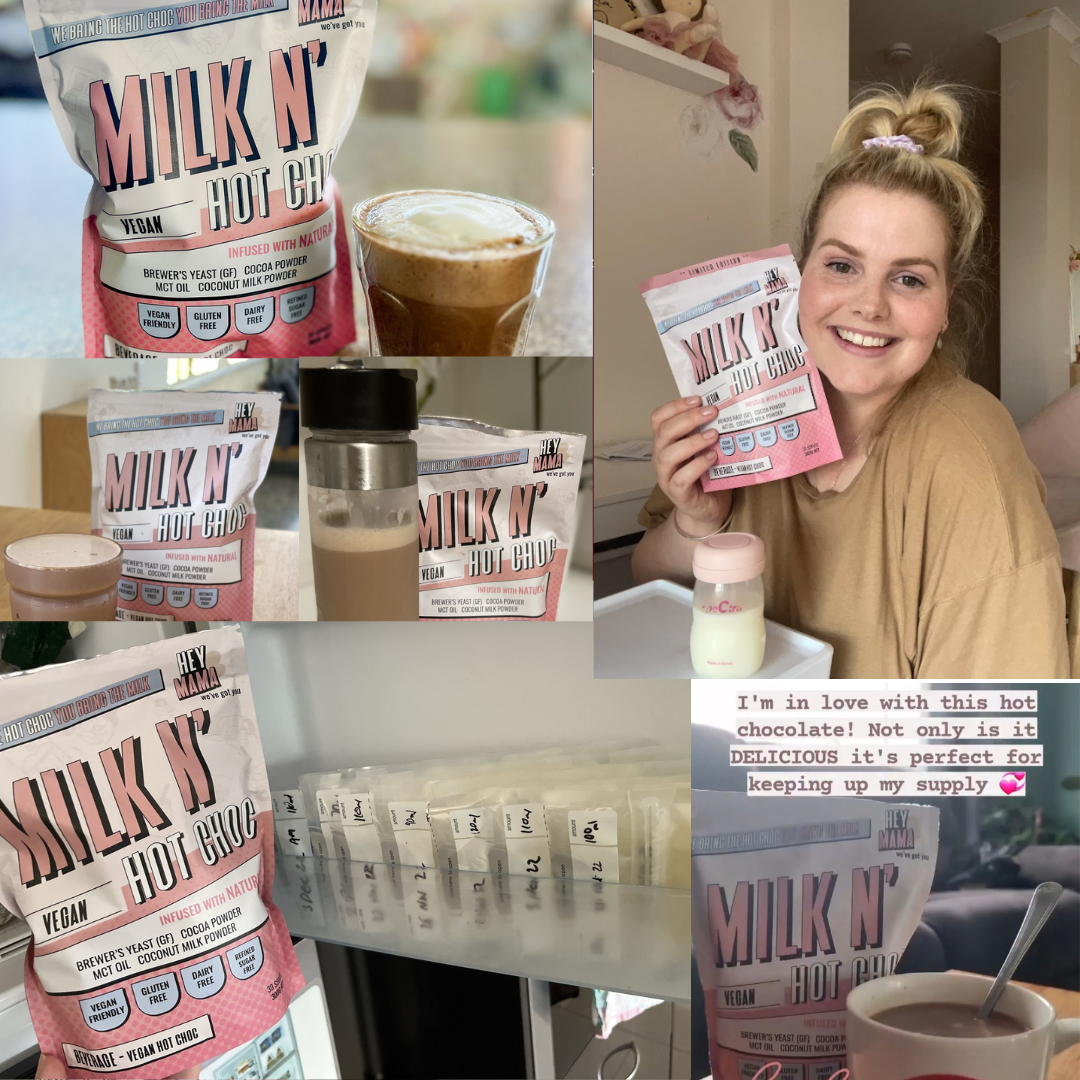 🌸 Hear What Other Mums Say 🌸
LOVED by mums across Australia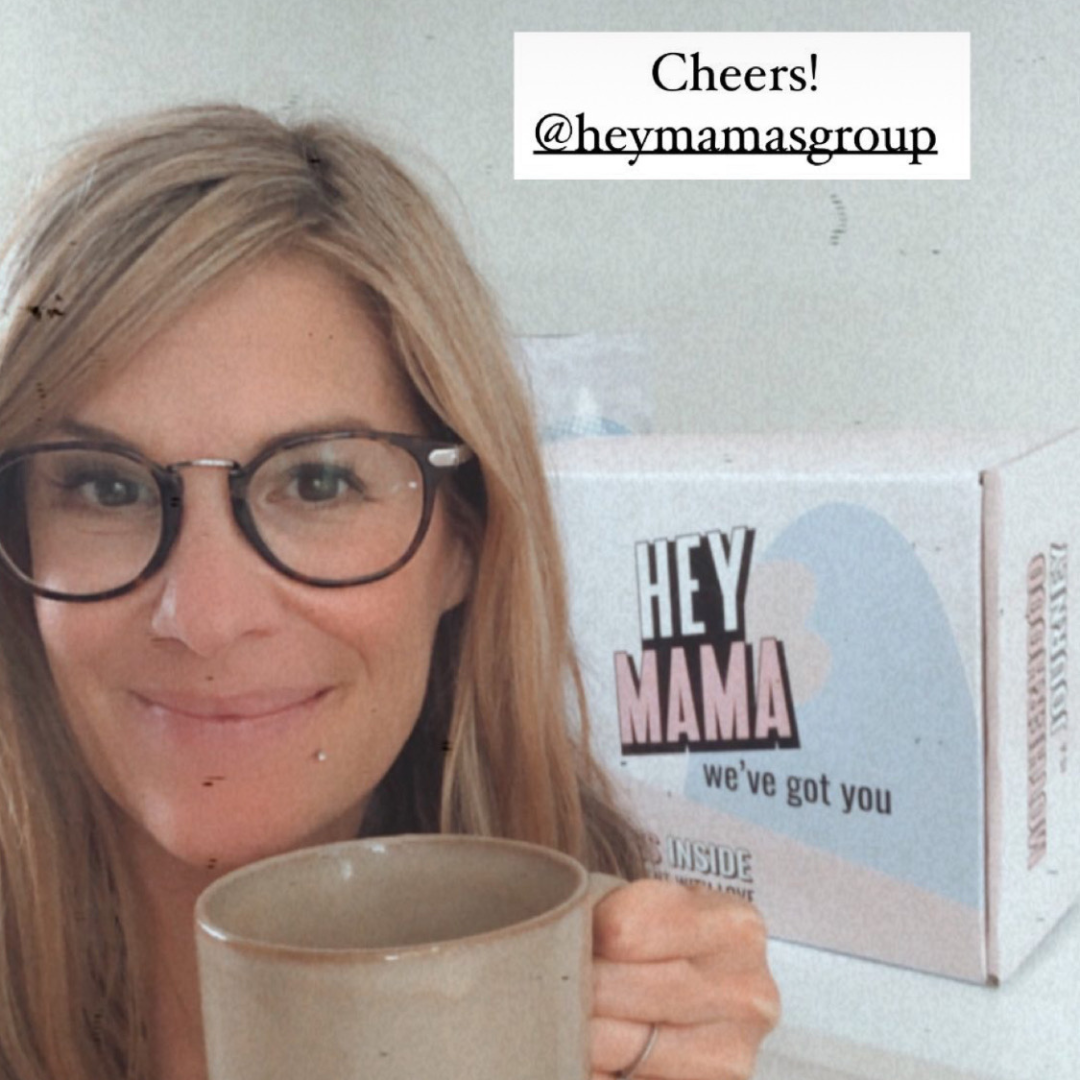 I would literally drink it without breastfeeding - its that good!
⭐️⭐️⭐️⭐️⭐️
I've got one happy little milk monster now that I've been having these daily smoothies! - Jessica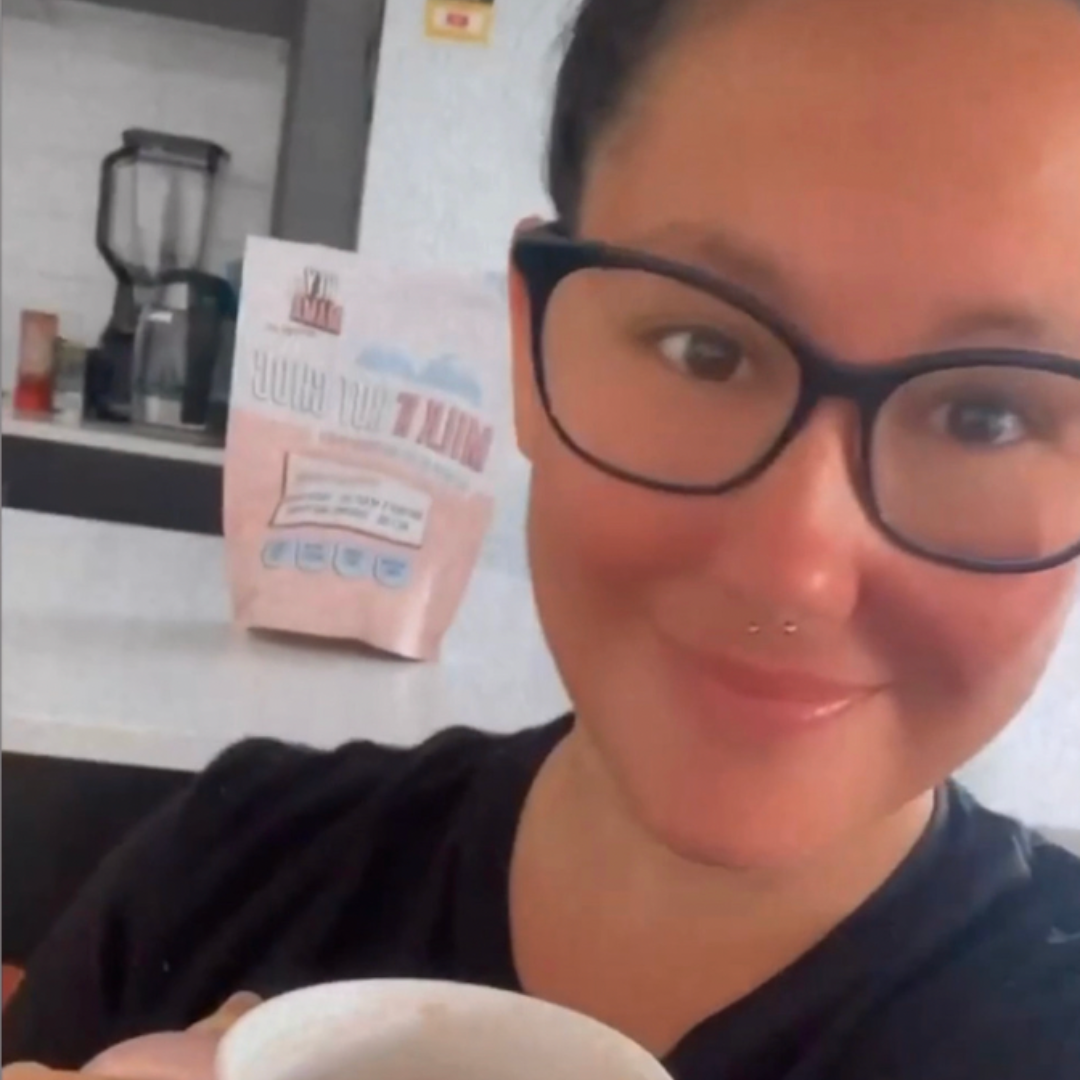 I'm always able to pump extra whenever I have this drink. It's indispensable for me.
⭐️⭐️⭐️⭐️⭐️
truly a life saver when you are having a sweet carving but you want a healthier option the hot choc is excellent. - Kaylah
Completely delicious, low sugar, warms your bones. Honestly can't get enough.
⭐️⭐️⭐️⭐️⭐️
I have it at night for a relaxing treat and I've been able to build up a great stash. - Ebony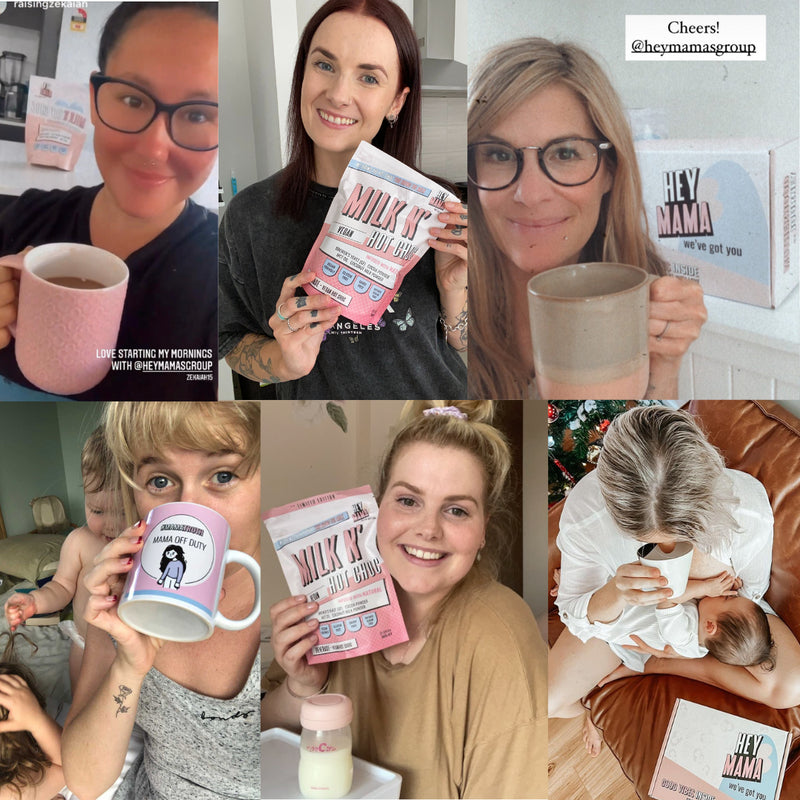 The Milk'N Hot Choc is perfect if…
🍼You want a boost of to keep up with your growing baby
☕️ You want something warm and tasty in morning/night 
😴 You feel tired and drained in the arvos/evenings
😋 You want something tasty and guilt-free that isn't high in sugar that you can actually look forward to having daily 
👶🏻You want something that is dairy and gluten free so it won't upset baby's tummy 
🌟 You want to start building a milk stash 
We're A Bit Pricey, But There's A Reason Why...
We aim to support not only our mamas but also people in basic need. Where possible we source ingredients from quality suppliers such as not-for-profit suppliers like Niulife.
Niulife is an Australian social enterprise that aims to erase poverty and empower the lives of some of the poorest remote coastal communities. The coconut derived products from Niulife are wild harvested organic coconuts that are planted and harvested by the local villagers.
We also believe that mums deserve the best so the ingredients we use are not the conventional ingredients.
For example, the gluten free brewer's yeast we use in all our products is unique from Germany and is 15x the price of the regular brewer yeast from china that a lot of our competitors use.
Faqs
I'm not sure about the taste, do you have sample packs?
Yes, we do have sample packs. Click here to see our sample packs
Can I take the hot choc while pregnant?
We recommend mums wait until they are 36 weeks or after birth to take the smoothies. We suggest 36 weeks as some mums may start expressing a few weeks prior from giving birth.
However, we highly recommend that before taking the hot choc that pregnant mums seek professional advice from their GP first to be safe as every mum's dietary and health needs are different.
Can I take the hot choc even after I have stopped breastfeeding?
Yes, you can still consume the smoothies even after you stop breastfeeding/pumping.
If I am pregnant and purchase a bag now but want to wait until the baby is here, how long is the shelf life? 
The shelf life of our hot choc is typically over 12 months so you can buy the smoothies in advance.
When and how often can I take the hot choc?
Majority of our mums like to have the hot choc in the mornings or evening when they want something warm.
All our products are made in Australia.
When will I start seeing results?
Every mama is different! Most will see results within 3-4 days, some sooner, some later 7-14, and for a few, maybe not at all.
Just like every mother is different, so are our  breastfeeding journeys. We recommend to also doing the following:  
- Regular pumping and power pumping for the first 2-3 days.
- Regular latching 
- Drink lots of water
**If you are concerned with your supply, we highly recommend you speak to a health care practitioner or a lactation consultant.
What if the hot choc don't work, can I get a refund? 
Yes you can. We offer a 30 day money guarantee*.
*All returns must be requested within 30 days of the order date.
We provide refunds for the following products: sample packs, 300g products and 750g products. 
All items must be pre-approved for return by emailing us at hey@heymamas.com.au.
Customers are responsible for shipping costs back to Hey Mama. 
The following products and conditions are excluded from our guarantee:
- All bundle orders 
- Orders over $100
Visit our returns & refunds page for more detail.
If you are unsure if a product is right for you or you will like the taste, we suggest you try our sample packs first.
What should I do if I am concerned and experiencing difficulties with my supply?
If you are experiencing difficulties with your milk supply, please consult your health care practitioner or lactation consultant as they can properly access your situation and provide you with some tailored recommendations.